Shopping for gifts for men can be very hard, especially when you want to buy something both stylish and practical, that would pleasantly surprise the receiver. If you have already scrolled through the whole https://www.pinterest.com/ for ideas and you are tired of seeing personalised mugs and alcohol bottles, here a a few suggestions for classic, timeless gifts that would delight any gentleman: 
Sunglasses
Sunglasses are a wonderful gift for any time of the year: they are obviously in great need during summertime, but few know that during winter, the UV rays are even harsher and much more dangerous.  Protect the gentleman's eyes and get him a pair of classic, qualitative shades that will look good on him and never go out of style. 
Irish flat cap
An Irish flat cap is a perfect gift for someone whose style choices you're not sure about since it can be worn with any outfit, be it the casual jeans and tees or a formal three-piece suit. This cap is a great option for any weather: choose one made of  tweed or wool to protect from the cold autumns and winters, or a cotton flat cap that would be suitable for warm springs and hot summers. In case you are looking for one, get an Irish flat cap online on Irish gifts stores..
Leather bag
A gift more on the expensive side, a big, high-quality leather bag is a must-have in every gentleman's wardrobe. The great part about this present is that the older it gets, the more stylish it looks. It is also extremely practical, therefore it is perfect for a laptop, all the documents one needs to carry, and personal belongings as well.  
Gloves
If you know the gentleman well, get him a pair of gloves that would complement his style, but if you don't know anything about his fashion sense, buy a pair of classic black, navy, or grey leather gloves that would go well with everything. Bonus points if they are custom made!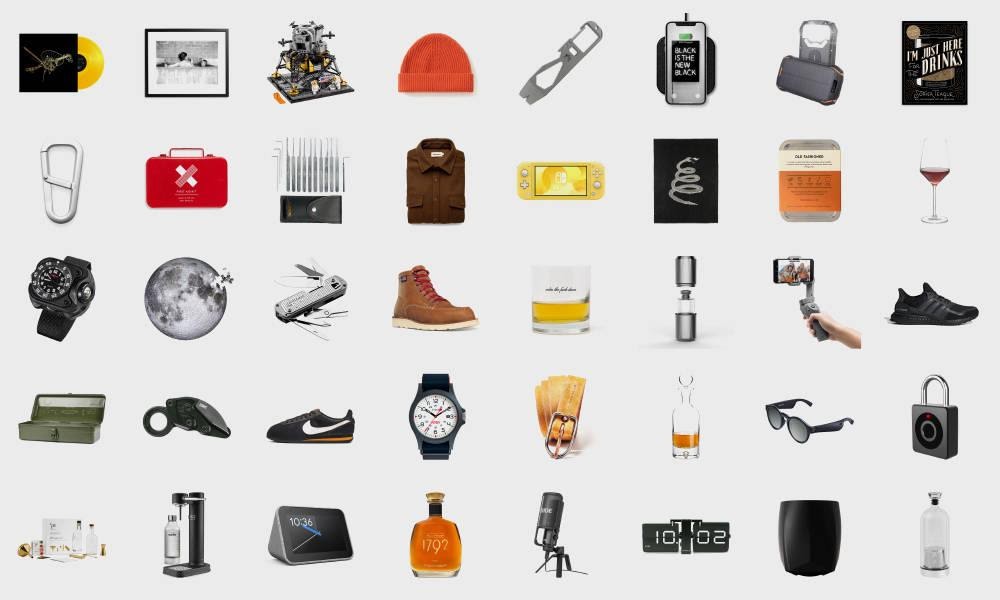 Scarf
The uniqueness of this gift is that it is a timeless accessory that is not sized, making it the perfect option for any man. For warmth and durability, choose scarves made of quality fabrics, such as alpaca or cashmere, in solid colors or classic patterns that will go with any suit or coat.
Cufflinks
Cufflinks are an absolute must-have for any gentleman, making it the ultimate accessory that can last a lifetime. We recommend choosing ones in a minimalist style, made of silver or gold, that would pair perfectly with an outfit that a gentleman can wear both to a wedding and in the office.
Record player
Now, this gift is unquestionably not for everyone, however, it is an incredible option for  music lovers in your life. You can get a large one that will perfectly match the interior design of the gentleman's home, or get a small one that will fit even on the laps. Whichever you choose, listening to music on a record player is probably the classiest, most elegant way to do it.
Jewely
It's time to put the stereotype that men shouldn't wear jewelry behind us. This is a thoughtful gift for the gentlemen in your life with whom you have a close relationship, such as your boyfriend, husband, father, or brother. Get them a ring, a bracelet, or a necklace, preferably in silver or another qualitative material, that they will treasure.
Cologne
At first, it may seem a tricky gift, because you don't always know what a person likes in terms of cologne. However, we can assure you that when it comes to fragrances, many men would love to try something different, but are afraid to, so with this present, you can push them outside their comfort zone. On the other hand, if you know that he only has one favorite perfume that he would never stop wearing, it would be safer to buy a restock. 
Pen
A classy, but overlooked present, because of the digital era we live in. An excellent choice for someone who writes a lot, such as a teacher, lawyer, writer, doctor, or even an old-soul college student who prefers to handwrite everything rather than to type. Since the ink can be replaced, this gift can last a long time,